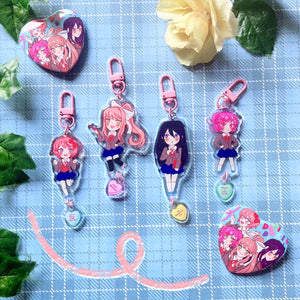 Welcome to the Literature Club! ❤️

Acrylic keychains of the club's adorable and unique members along with some sweet candy hearts that feature some of their quotes from the game! Choices are: Sayori, the youthful bundle of sunshine who values happiness the most; Natsuki, the deceivingly cute girl who packs an assertive punch; Yuri, the timid and mysterious one who finds comfort in the world of books; and, of course, Monika, the leader of the club!
Art and designs based on the characters from the Doki Doki Literature Club! videogame created by indie developer Team Salvato.
* D E T A I L S *

~ choice of Sayori, Natsuki, Yuri & Monika
~ keychains are acrylic with epoxy on one side
~ keychains are roughly 2.5-3" tall, candy hearts are about 1"
~ includes pink lobster clasp