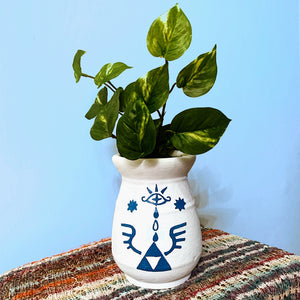 SHEIKAH is 6" tall and 4.5" wide at its widest point. It is an upcycled ceramic sugar container that I have transformed into a small vase, and is perfect for displaying flowers and houseplants, or for storing pens, paintbrushes and other items! Its teary eye is inspired by the symbol of the mysterious Sheikah, the shadow race of Hyrule from The Legend of Zelda videogame series.

All vases/pots/planters are designed to be one of a kind due to them being upcycled and painted by hand. Please note that the plants are not included, and this listing is for the pot only 🌿

What is upcycling and why is it important?
Upcycling, also known as "creative reuse", is the process of re-purposing by-products, waste, or even old and useless products into new ones! This is not to be confused with recycling -- recycling breaks down products into their raw materials to be made into completely new products, whereas upcycling creatively repurposes old materials while maintaining some of their original characteristics. 
By upcycling existing products and resources and transforming them to give them a second life, you are not only reducing what eventually ends up in a landfill, but you are also minimizing the use of natural resources. :) ✌🏻