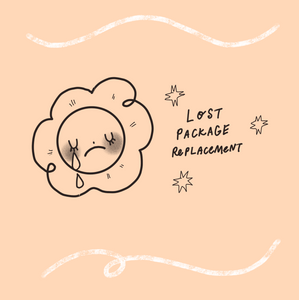 Are you missing a package? Or maybe you received the wrong items? ☹ No problem, I can replace it for you! ☺
Unfortunately lost packages are not uncommon, and as I am just one person shipping all your orders out I may make an error from time to time. I am always happy to replace any lost or incorrect product orders while supplies last! Please read the instructions below and important notes and I will have a replacement package out for you as soon as I can.

CHECKOUT INSTRUCTIONS:
In the "add a note to your order" box at checkout, please include the ORDER NUMBER (#XXXXX) and if possible, the exact items you are missing. 

In the "discount code" box at checkout, please enter the code LOSTMAIL at checkout to get free untracked shipping. If you wish to have tracked USPS shipping like any other normal shop order, you are more than welcome to pay for shipping at my usual rates if you want! 


OTHER IMPORTANT NOTES:
✶ Please ensure that your full name and email used on your order matches the ones you used on your previous order so I can match your old package with your new one!
✶ Please ensure that your shipping information is CORRECT! More often than not, mail gets "lost" due to having an address that is incorrect and therefore mail cannot be forwarded to them. 
✶ If I don't have anymore of the items to replace your missing ones, I will gladly allow you to choose a different items of equal value to receive in their place!